A Disciplined Trump and the Hunter Biden Distraction
Is Trump's newfound discipline enough to win it, or will Biden's lead survive?
This week's newsletter was held until after the debate happened. These are all my thoughts on the debate and the state of the race. I will include a recipe at the bottom of the email as always, but there is a lot more politics than normal.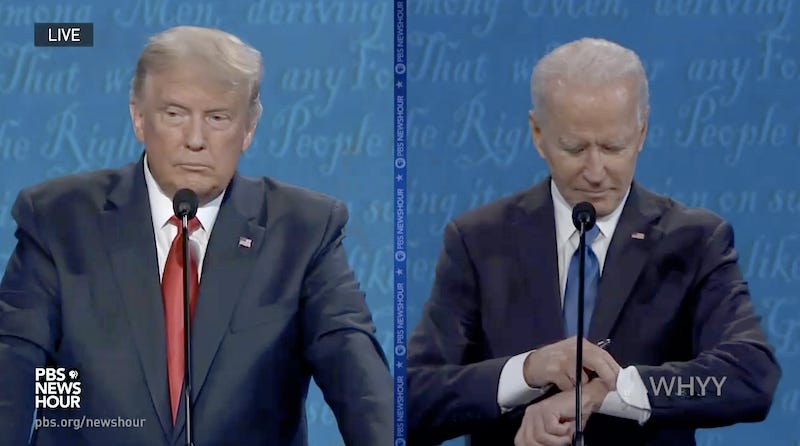 In the final debate of the year, Donald Trump came prepared and disciplined.
That was the almost universal reaction as the debate took place in Nashville, Tennessee. Hosted by NBC and White House correspondent Kristen Welker, the debate was much less of a train wreck than the first one a few weeks ago. Trump took on Democratic nominee and former vice president Joe Biden in a calmer and more controlled way than most appeared to be expecting; and because of that, he came across as more presidential than he has in quite a while.
Trump clearly came into the debate practiced and prepared — and with a game plan. His entire strategy was focused on being on offense the entire night. Every single question was turned into an attack on Biden, and he did so without interrupting Biden. It flustered Biden at times, getting him overly-passionate in some of his responses, groaning with an "Oh, God" on occasion, and just sarcastic laughter when he wasn't able to respond to Trump's attacks.
Biden, I think, would have liked to be on offense more, but he was stuck having to respond to Trump and that clearly got to him. There are a lot more attacks he clearly wanted to make, but he was struggling, and as the night progressed, slipping up and making mistakes as time went on.
Insofar as you can "win" a presidential debate, it appears that Trump did come out on top. He was on message, while forcing Biden to answer questions on his terms. That kept the former vice president from really landing any clear blows.
On the flip side, all Trump had to do going in was be disciplined. It was a pretty low bar, and to his credit, he did clear it. What we have to look for now is a sign that it will have a positive impact. The trend lines seem to indicate that, going into last night's debate, Trump was seeing an upward trend. In the coming days, we could see that bump up. If it does, that's a clear sign the American voters liked what they saw in the debate.
If things stay the same, then we know that the undecided voters are still nervous — particularly where COVID-19 and the economy are concerned — and are hesitant to return to pull the lever for Trump again.
I do think Trump won last night's debate, and I think this level of discipline is a very good thing for him. I am also very sure that he would be up 10 points right now. Hopefully for the president, it is not too late to close the gap between him and Biden in key swing states.
The Hunter Biden Emails Are A Real Scandal, But They're Also A Distraction
If I were advising the President, I'd be okay with him going after Biden on the Hunter Biden scandal, but I would also not want to make it the focus of the campaign for these last 11 days.
Right now, I think Trump has two good messages. The first is criminal justice reform, and there is polling to suggest that minority groups like black males and Hispanic families are actually moving ever so slightly toward Trump because of it. You saw a lot of this message last night, and he honestly should continue moving to pick up that support. If there is even a few percentage points difference in who those demographics vote for, then the dynamics of the race fundementally shift in Trump's favor.
Likewise, there is a very solid line of attack on Joe Biden where his time in Washington D.C. is concerned. He has been in politics for 47 years, and Trump can really hammer home that nothing has gotten done while Biden has been in office. This attack even forced Biden to say that he was the Vice President in the last administration, which was somewhat of a dig at Barack Obama, who Biden served under.
The Hunter Biden emails, though, are a distraction. The scandal is out there far too close to the election and hammering on that is political fodder for a different time. Right now, Trump needs to convince voters to support him, not give them more reasons to not vote for Biden. Americans want to know why they need to support the incumbent. Even when he's attacking Biden's time in politics, he's doing so from a position of "I got things done. Biden never did."
What's more, the Biden emails will absolutely be juxtaposed with Trump's own business interests/possible conflicts of interest, and that's not something he will want. He wants the American public to think of the good things, not remember the bad.
The "Undecided Voter"
I am starting to believe that there isn't really an undecided voter, at least in the traditional sense. Rather, I think we're seeing a lot of people who voted for Trump in 2016 not sure that they're going to pull that trigger again because Trump has been such a wild card.
COVID-19 and the economy weigh on their minds, and while Trump's economic successes prior to the pandemic were great, the pandemic took the wind out of those sails, and people are more likely to vote based on the present rather than the past.
However, a disciplined and on-message Trump like we saw last night is more likely to make those nervous Trump voters more likely to repeat their vote from 2016. Biden's campaign, as I mentioned earlier this week, has tried to repeat the Romney strategy of "Vote for me because I'm not the other guy," and that didn't really work for Romney in 2012. Voters will vote to keep the status quo in elections like that.
If Trump can stay on his good messaging while not getting TOO off track with the Hunter Biden emails and his usual chaotic/ADHD behavior, then he can make those voters feel a lot more confident.
Recipe of the Week: The Best Barbecue Sauce For Chicken
So there is a greater than zero chance that I am going to be grilling or smoking some chicken this weekend, and I am planning to make some of my favorite sauce to go with it.
Whenever people think of barbecue sauce, they think of a reddish or brown sauce that goes on ribs, pork, etc. They rarely think of a white sauce. But, I am very much sold on Alabama-style barbecue sauce, which is based in mayonaisse rather than tomato sauce.
1 cup mayonnaise

¼ cup apple cider vinegar

2 tbsp. brown sugar

1 tbsp. brown mustard

1 tsp. lemon juice

1 tsp. prepared horseradish

½ tsp. salt

½ tsp. black pepper

¼ tsp. cayenne pepper

Mix ingredients together and store in refridgerator.

Apply liberally to smoked or grilled chicken (also good with pork).

Will store for up to two weeks.
Final Thoughts…
Much may be made of the 19 year old who was arrested with a vehicle full of weapons on his way to assassinate Joe Biden. If you hear about or read the story, what you may not hear about is that the kid is not a Trump supporter, but a Bernie bro. Because of that fact, though, this story may only stay in the news cycle for about two minutes.
I am truly getting tired of the media's treatment of the news and how they think stories should fit a preconceived notion or not be run at all. We need a better media class.